The Last Dragon Mixtape
DJ Emir's Last Dragon Mixtape makes a great gift for the Kung Fu Fan in Your Life.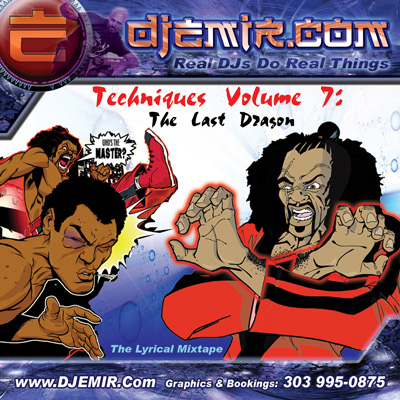 DJ Emir Star Wars Mixtape CD: The Hottest Star Wars Mixtape in The galaxy, Mixed by DJ Emir The Mixtape Master
Order Your Mixtape Now
Just 9.99 for this ultra hot MixCD.
Free Shipping on all Mixtapes!
The Mixtape for all Kung Fu Movie fans and Mixtape Fans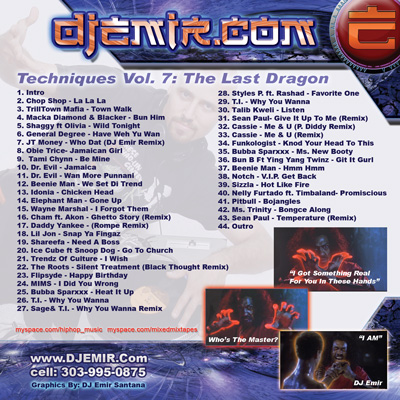 Great Hip Hop and Reggae music all mixed nightclub style and perfectly matched up with hot samples from the movie the Last Dragon. Including sound clips from Bruce Leeroy, Bruce Leeroy's Master, and family members as well as a host of villains including the infamous "SHO NUFF" the "Shogun of Harlem" and his famous lines "Who's the Master?" This mixcd is a great listen for all Hip Hop and reggae music fans as well as for Kung Fu movie fans and fans of the Kung Fu Cult classic Movie, The last Dragon.
Mixtape Bundle Pack: 12 Mixtapes for Price of 7
Buy 7 mixtapes Get 3 Free! All 10 Mixtapes just $74.99
Plus We include Free Extra copies of mixtapes Volumes 9 & 10 for a friend for 5 FREE Mixtapes total!
(Does not include Michael Jackson mixtape or Reggae Mixtape those mixtapes must be added to order seperately)
Mixtape Six Pack V2: volumes 9,10,11,12
plus the Michael Jackson Mixtape & 18K Dancehall Reggae Mixtape V1
(6 Mixtapes for The Price of 5)
Buy 5 mixtapes Get 1 Free! Vol9-12 plus Michael Jackson Mixtape & Dancehall Reggae Mixtape just $49.99 for all six mixtapes
Order your set of Mixtapes from One of The Best

DJs

in The world

The Last Dragon Mixtape by The

Mixtape Master

Himself
Techniques Volume 7- Hip Hop Mixtape Mix-CD Track Listing:
1. Intro
2. Chop Shop - La La La
3. TrillTown Mafia - Town Walk
4. Macka Diamond & Blacker - Bun Him
5. Shaggy ft Olivia - Wild Tonight
6. General Degree - Have Weh Yu Wan
7. JT Money - Who Dat (DJ Emir Remix)
8. Obie Trice- Jamaican Girl
9. Tami Chynn - Be Mine
10. Dr. Evil - Jamaica
11. Dr. Evil - Wan More Punnani
12. Beenie Man - We Set Di Trend
13. Idonia - Chicken Head
14. Elephant Man - Gone Up
15. Wayne Marshal - I Forgot Them
16. Cham ft. Akon - Ghetto Story (Remix)
17. Daddy Yankee - (Rompe Remix)
18. Lil Jon - Snap Ya Fingaz
19. Shareefa - Need A Boss
20. Ice Cube ft Snoop Dog - Go To Church
21. Trendz Of Culture - I Wish
22. The Roots - Silent Treatment (Black Thought Remix)
23. Flipsyde - Happy Birthday
24. MIMS - I Did You Wrong
25. Bubba Sparxxx - Heat It Up
26. T.I. - Why You Wanna
27. Sage& T.I. - Why You Wanna Remix
28. Styles P. ft. Rashad - Favorite One
29. T.I. - Why You Wanna
30. Talib Kweli - Listen
31. Sean Paul- Give It Up To Me (Remix)
32. Cassie - Me & U (P. Diddy Remix)
33. Cassie - Me & U (Remix)
34. Funkologist - Knod Your Head To This
35. Bubba Sparxxx - Ms. New Booty
36. Bun B Ft Ying Yang Twinz - Git It Gurl
37. Beenie Man - Hmm Hmm
38. Notch - V.I.P. Get Back
39. Sizzla - Hot Like Fire
40. Nelly Furtado ft. Timbaland- Promiscious
41. Pitbull - Bojangles
42. Ms. Trinity - Bongce Along
43. Sean Paul - Temperature (Remix)
44. Outro
Hip Hop Mixtape volume 7: The Last Dragon Mixtape
Join Bruce Leeroy and DJ Emir on a journey within as they discover what it takes to become a true Kung Fu Master and a True Turntable Master
"Your Last Dragon Mixtape has become one of my friends favorite mixtapes, she loves the reggae mixes you threw on this mixtape."
-Joloni Williams Los Angeles California
"The mixtape volume 7 was pretty nice, Who's that one artist that does the Knod your Head song?
Is that cat signed? Cause he's tight, I've never heard that song anywhere else though."
-DJ Al Ya Pal Denver Colorado
"Man your mixtape was sweet, I love the movie quotes too, that SH*t made my day!
Keep making hot mixtapes cause I'm loving the whole series."
-Your Fan since Volume One! Tyrone Vidal. Hollywood, California

Techniques Volume 1 Mixtape