Mixtapes and Merchandise Store
Mixtapes
Mixtape Store
Merchandise Store
Mixtapes
Mixtapes
Custom Mixtapes
New Mixtape
Dancehall Mixtape Vol1
Michael Jackson Mixtape
Batman Mixtape
Mixtape13
Gold Member Mixtape
Iron Man Mixtape
Transformers Mixtape
2008 Mixtape of The Year
Drunken Master Mixtape
Last Dragon Mixtape
Star Wars Mixtape
Troy Mixtape
18 Bronze Men Mixtape
White Lotus Mixtape
Hip Hop Music
Mixtape Gift Sets
Mixtape News
Mixtape Reviews
DJ Mixes
Parties and Pictures
Denver Nightlife
Epic Parties
Denver Pool Parties
Night Life
Hip Hop Honeys
Denver Fridays
Denver Saturdays
Denver Nightclubs
DJ Emir Social Media Links
DJ Emir Facebook Fan Page
DJ Emir Designs Facebook
DJ Emir Santana Facebook
DJ Emir Mixtapes Facebook
DJ Emir Wordpress Blog
DJ Emir Mixtapes Wordpress
Mixtapes and Designs Blog
DJ Emir Myspace
Website Links
Site Map
Extreme Flyers
Denvers Best DJs
Hip Hop Music Links
Hip Hop Music
Hip Hop Mixtapes
DJ Emir is a world class mixtape producer and nightclub DJ. You can find him at the best nightclubs in Denver and around the world.
for Denver DJ Bookings, National DJ Bookings and International DJ Bookings Call:
303 995-0875
For Flyer Designs Call
303-995-0875
Or Email: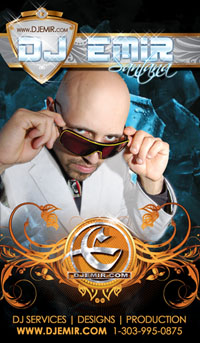 Hire One of Denver's Best DJs Today,
Call DJ Emir to make your next event hot: 303 -995-0875
Denver's Best Companies, Parties, Nightclubs And Weddings Rely On DJ Emir Santana And So Should You 303-995-0875
Denver DJ Services, Sound and Lighting for All Kinds of Events. The Best Value for Your Money.
Our DJ Service is founded on the understanding that Great Parties start with Great DJs and great music. We also understand that a great DJ
can only be at his or her best when performing on top notch equipment. We understand that music speaks to people in different ways,
so our DJs have learned to become fluent with all styles of music. These beliefs are at the core of everything we do here at www.DJEMIR.com
and our sister company www.DenversBestDJs.com . When we DJ parties we leave them wanting more, we play dynamically so you feel the music and have to hit the dancefloor.
Hire our DJs for your next nightclub event, wedding or party and experience what your parties have been missing all these years.
Denver Wedding DJ Service Specialist: ready to Make Your Wedding Fun And Exciting
We provide amazing wedding DJ services to make your special day fun, exciting and entertaining for everyone. We will work with you to ensure you have a great time at your wedding Give us a call today to schedule a free consultation by phone, email or in person. 1-303-995-0875 or email mixshow@djemir.com

DJ Emir Santana, The DJ Denver's Best Companies Rely On For Their Big Events
Every Year DJ Emir provides entertainment, sound and lighting for major corporate parties, weddings, school dances, nightclubs, hotels and charity event functions.
DJ Emir has recently provided dj services and entertainment for several huge events including shows at Casselmen's, The Wells Fargo Theater, Auraria Campus, Car Shows, flip cup tournaments, motorcycle and car dealerships, King Soopers parties, weddings, tons of nightclubs and several Universities.
In July DJ Emir was at Skyline park on the 16th Street mall for Denver's Urban Assault Ride Bicycle Scavenger Hunt Race. This huge annual event featured over 1600 crazy and wacky bicyclists that rode all around the city performing crazy tasks all ending in a huge party at skyline park with DJ Emir. Did we mention when Emir announced he had Mixtape CDs another race ensued? The Race to get a copy of one of the mixtapes! You can check out some of the pictures from the Urban Assault Ride event below.
We are a part of the Elite Team of DJs at Denver's Best DJs www.DenversBestDJs.com
For DJ Services in Denver Colorado and around the world Call 1-303-995-0875 or Email:

The Perfect DJs for Special Occasions:

Weddings
Wedding Receptions
Special Receptions
Anniversaries
Store Openings
Store Parties
Malls
Birthday Parties
Sweet Sixteens
Quinceneras
Halloween Parties
Christmas Parties
Pool Parties
Going Away Parties
Beach Parties
Picnic Party
Bachelor Parties
Bachelorette Parties
Baby Showers
Open Houses
House Warming Parties
Welcome Home Parties
and more

The Perfect DJs for Schools and Universities

Proms & Homecoming Parties
School Parties
Fraternity Parties
Sorority Parties
Graduation Parties
Elementary School Parties
High School Parties
Middle School Parties
Championship Parties
Foot Ball Games
Basketball Games
and more

Promotional Event DJs

Corporate Parties
Store Openings
In Store Promotions
Giveaways
Shopping Malls
Competitions
TV Shows
Music Stores
Charity Events
Tailgate Parties
MMA (mixed Martial Arts) Events
County Fairs
Taste Of Colorado
Cinco de Mayo
Ski Parties
Resorts
Boat Parties
Amusement Parks
Water Parks
Apartment Complex Pool Parties
Street Fairs
Block Parties
Community Parties
Convention Parties
and more

DJs for Nightclubs and Large Events

Nightclubs
Raves
Mixtape Release Parties
Celebrity Parties
Fashion Runway Shows
Bikini Contests
Sporting Events
New Years Eve Parties
Promotional Events
Thanksgiving Eve Parties
Liquor Sponsor Events
Concerts (Perfect DJ for Concerts)
World Tours
Lingerie Parties
Break Dance Competitions
Car Shows
Lowrider Shows
and more
DJ Emir Santana Denver's World Class Mixtape Producer and Event DJ

DJ Emir Santana is a World Class Mixtape producer , remix artist and event DJ living in Denver, Colorado. Armed with an arsenal of great music, amazing ability and impeccable taste, Emir is known as the DJ to go to for a great parties and great mixtapes. Nightclub patrons and mixtape fans know him, love him and ask for him by name. DJ Emir's mixtapes are highly coveted all over the world and fans love to attend his mixtape release parties, where they can score a free mixtape. This kind of draw and Emir's passionate diverse mixes have made him a highly sought after DJ allowing him to DJ at major nightclubs and venues all across the United States, the U.S. Virgin Islands, the Caribbean, West Indies, and parts of Europe and Asia.


For the past few years he has been invited and flown out to Alaska as the headline DJ For the Iditarod After Parties in Nome, Alaska. During The Late Spring and summer months you can find DJ Emir playing for huge pool parties, graduation parties, corporate picnics, weddings and huge events across the South Western United States.

DJ Emir Santana, Denver's most versatile and dynamic nightclub, mixtape and event DJ. 303-995-0875

DJ Emir Santana is available for all occasions and events in Denver and around the world.
DJ Emir has been flown to DJ in Grenada, China, Mexico, Puerto Rico, Canada and all over the United States.
As a professional DJ service company we cater to all kinds of events from nightclub events, high profile celebrity parties and corporate mixers to weddings, pool parties, barbeques, reunions, school parties and birthdays.

DJEmir.com has all the necessary lighting, sound equipmnent and expertise to create memorable events and parties that are fun and exciting for all walks of life. We also rent out DJ Equipment and PA sound systems for events as well.

---

Denver's Number One Mixtape Producer and Nightclub DJ

A highly versatile DJ, DJ Emir seamlessly blends music from all different genres to create a sensual aural experience that defies all boundries and definitions. With his constant enthusiasm and passion for his craft DJ Emir's mixes and energy have propelled his nightclub mixes and mixtapes across the globe and made Emir an international celebrity DJ. He and his friends have bumped into DJ Emir fans from Russia, France, Australia, Grenada, Puerto Rico and even China. Experience the difference a real DJ makes call now to book DJ Emir for your next major event today!

Are you ready for a Denver DJ lays down the heat and makes the party come to life?

To book this Super Star DJ call 303-995-0875 or email:

Also available out of state for Las Vegas, Los Angeles , Arizona and all Major City Nightclubs and Concert Events.

Need a Denver DJ? DJ Emir is Currently available in Denver for Nightclubs, Weddings, Corporate parties, School Parties, Proms, Christmas parties and New Years Eve Parties. Book Today to lock in your dates now!

Travel and Lodging must be provided by Event Co-ordinator

Mixtape Release Party at Vinyl Nightclub November 2008

DJ Emir's Past Notable Nightclubs, Venues and Events:

Wells Fargo Theater (Denver)
Urban Assault Ride Bicycle Scavenger Hunt (Denver)
Erico Motor Sports Ducati Motorcycle Event (Denver CO)
Metro State College Campus Events and Seminars
CU Boulder Campus Events
Denver Athletic Club
Karma Nightclub (Grenada, W.I.)
Monarck / 24k Ultra Lounge (LODO Denver CO)
Jet Hotel (Denver)
Vinyl Nightclub (SOCO Denver)
Teddy's Nightclub (Denver)
Club America (at The Tivoli)
Lotus Ultra-Nightlife (Denver)
Basement Nightclub (Denver)
Jacksons Nightclub (Denver)
Rise Nightclub (Denver)
Weddings & Events at Cherry Creek Country Club
Next Level TV Show Denver
Hip Hop Madness TV Show Denver
Posh Nightclub (Denver)
Dynasty Nightclub (Denver, CO)
Treo Nightclub (Lonetree, CO)
Theorie Nightclub (Denver)
Loft Nightclub (Denver)
DC10 First Class Lounge
Baha Beach Club (Denver)
Sugar House (Denver)
Crave Nightclub (Denver)
Tabu Nightclub
Hip Hop Jam 1 (South Denver)
Hip Hop Jam 2 (Downtown Denver)
Hip Hop Jam 3 (Downtown Denver)
X-Treme (Houston Texas)
ConXtions (Houston Texas)
Bash Nightclub (Denver)
Gate 12 Nightclub
303 Nightclub
AD's Nightclub (Denver)
Cherry Fridays Inside Maxemillions (Denver, CO)
Sevilla's (Denver)
Honeys 1 & 2
Heartthrob Nightclub (Denver)
Pollyesther's Nightclub (Denver)
Palladium Nightclub (North Denver)
Market 41 (Denver LODO)
Larimer 21 (Denver LODO)
Vertoga (Denver)
Mecca (Boulder Colorado)
Loft Nightclub (Denver)
Club Purple (Denver)
Denver Live
F-Stop (Denver)
I-Beam (Denver)
Rock Island (Denver)
Palm Tree (Aurora)
Skyline Cafe (Denver)
Chocolate City (Inside Club America)
Chocolate City 2 Event Center
Roy's House
Cafe Con Leche (New York)
Park Street Mansion Party (Denver CO)
Mansion Party (Cherry Creek Hills CO)
Sugar (New York
Park Street Mansion Party (Denver CO)
Mansion Party (Cherry Creek Hills CO)
Sugar (New York)
Santana's
Pure Nightclub

Silverado Nightclub
Le Bare Essence (Denver Strip Club)
Soapie Smiths
Maxemillions
Gotham
Krash Club
The Key Club
Roxy Nightclub
The Blue Room
Foundry Warehouse
Level Nightclub
Xstasy (New York)
Aztlan Theater
Gothic Theater (South Denver)
Fillmore Auditorium
Hard Rock Cafe
All Stars Sports Club
The Dug-Out
Cherry Street Grill (Cherry Creek- Glendale)
Butterfield 8 (Cherry Creek)
Jimmy's Grill (Cherry Creek)
Club Phenomenon (Denver)
9th Ave West (Now La Rumba)
Synergy Afterhours (Denver)
Lodo Music Hall (Denver)
Club Sky (Denver)
The Suite (Ft Collins)
X-calibers (Denver)
Club Ice (Denver)
Club Blaze (Denver)
Club Blaze (New York)
Magnetic Impulses (Denver Rave)
Eullipians Event Center
Ascot Theater (Denver)
Sugar (New York)
Plus Many Denver Raves, Concerts & Events
Allstar Weekend (Denver)
Allstar Weekend (Las Vegas)
Allstar Weekend (Atlanta)
Allstar Weekend (Los Angeles)
Patricias Sports Bar (Ft Lupton)
Fox Theater (Boulder CO)
Garfield Fairgrounds Rave (Rifle, CO)
Mansion Party (Glenwood Springs)
Mansion Party (Highlands Ranch CO)
Pool Parties (Parker CO)
Pool Parties (Arizona)
Pool Parties (Denver CO)

World Tours: Clubs in China, Mexico, Puerto Rico, Grenada, Jamaica Las Vegas, Arizona, New York, Denver, the Caribbean and more.

DJ For College and School Events, Parties & Proms:

Colorado Academy Prom
La Junta High School Prom
Peak to Peak Charter School Homecoming Dance
Horrace Mann Middle School Parties
North High School Parties
CU Metro State College Seminar
CU Metro State College Club Night
CU Metro State Campus Events
CSU Events
Horrace Mann Middle School Parties
DU College Nightclub Parties
CU Boulder Sorority Parties
CU Boulder Snowboard Expo Event

DJ for Denver Corporate Parties, Weddings, Private Parties, and other events:

Weddings
King Soopers Parties
Corporate Parties
Quinceneras
Sweet 16 parties
Graduation Parties
Fraternity Parties
Company Picnics
Anniversaries
Christmas Parties
Birthday Parties
Bachelor Parties
Bachelorette parties
Concerts
MMA Fight Events
Boxing Events
New Years Eve Parties
4th of July Parties
Labor Day Parties
Holiday Parties
Spring Break Parties
College Parties
Beach Parties
Pool Parties
Fashion Shows
Store Openings
In Store Promo Events
Grand Openings
Corporate Picnics
Corporate Parties
Mixtape Release Parties
Album Release Parties
Street Fairs
Block Parties