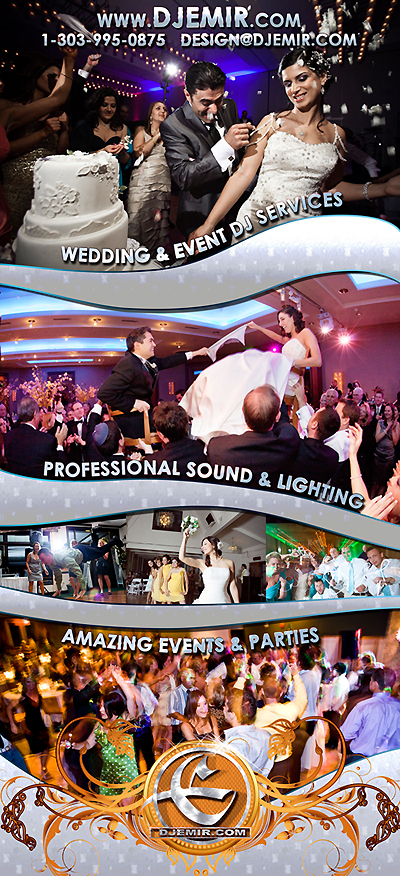 To book DJ Emir and his team of event professionals for your wedding or event call 303-995-0875 or email

Wedding DJ Services and Wedding Photography Services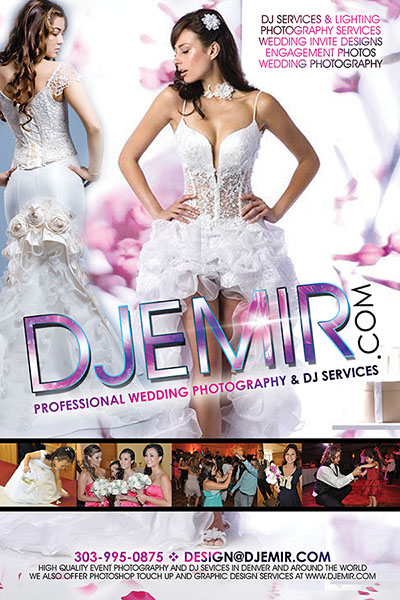 We provide wedding photography services, DJ services, engagement photo services and can even design your invitation and thank you cards and print and ship them if you need us to as well.
To schedule an appointment or consult in person or over the phone or by email call 303-995-0875 or email:

For an Amazing Wedding You Need an Amazing Wedding DJ
Allow our wedding DJ professionals to help make your wedding event an amazing event everyone loves from beginning to end. Our professional DJ service will provide a World Class DJ, a high quality sound system and lighting system and one of the best times of your life.

We meet with you to go over the specific needs of your wedding, and will make sure to keep the event moving according to schedule at a comfortable pace for you and your guests.
We provide high quality DJ services for weddings and all sorts of events in Denver, Colorado and surrounding areas.

Note: We can also provide DJ services and entertainment in other cities and countries with the addition of travel expenses work visas and travel arrangements.

Wedding Entertainment and Event Entertainment Experience:
E. Santana Sound and Lighting was established in 1992 by DJ Emir Santana and has grown to become one of Denver Colorado's Elite Nightclub Event and Entertainment companies.
Our company continuously re-invests in sound and lighting upgrades, new music and equipment so that we can offer you the best all around entertainment packages in Denver.
Professional Wedding DJ Services:
We deliver high quality service so you get more than what you pay for. We believe in providing performances that exceed our customer's expectations and events that are fun exciting and memorable. Our dedicated team of professional entertainers and sound and lighting experts are bound by this belief and take pride in their professionalism and expertise. We guarantee our performance exceeds the quality that of any of our competitors.
To schedule a wedding event or private party in Denver Colorado or world wide call 303-995-0875 or email

In addition to event sound and lighting, we can also provide a second photographer for your event. Our photographer will make sure to take the candid shots of your wedding reception guests that your photographer might miss as they are usually busy taking photographs of the Bride and Groom. This has been a saving point for one of our clients when their photographer had a hard drive malfunction that essentially lost them all of their wedding reception pictures. Our backup wedding reception pictures then became their only pictures of the reception, lucky thing they hired oor DJ company to be their DJ or they would not have had any pictures of the reception at all. We can also be your source for the main photographer if you want as well.