Custom Professional Website Design Services:
Beautiful and functional custom website designs that will help you stand out from your competition.
Our sites are SEO friendly and fully designed from the ground up to make sure your Search Engine Optimization is at the core of the design.
Your custom website template will be designed with your company in mind, designed from scratch so the SEO can be built right into the template itself.
Our dedicated design professionals will create a custom website for your company that you can be proud of.
Custom Website Design pricing Starts at $1500 for a fully functional website with a custom website template design and up to 12 pages linked within the menu bar.
Check out some of our Website Design samples below and call 303-995-0875 to get your design up and running.
Diamond Talent Hunks The Show Website design:
We Re-Designed the Hunks Website from scratch including re doing the Pictures of all the Men of Hunks The Show
creating a custom template with roll over navigation and header images for the website.
Website Design

Professional Website Designs for $1500 (includes 3-12 page website with custom designed template) more complex designs may require more money
Website Design for DJ Emir Santana Mixtapes and Designs
This is a screen shot of the main website page of the fourth website re design of our own website
where we switched from our previous template design color scheme of Red and Black to our new Denver nuggets inspired Blue and Gold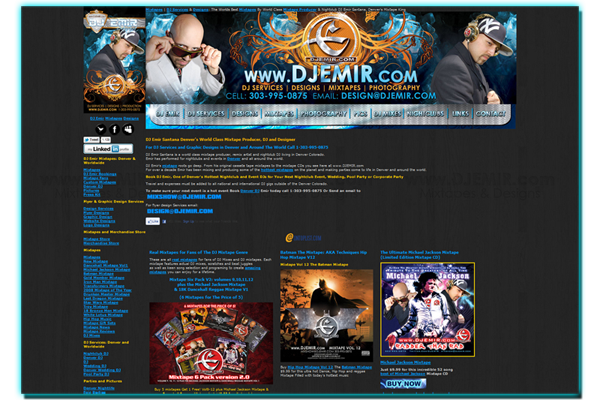 www.DJEmir.com Previous Website template design using Red & Black Color Scheme