DJ Emir mixtapes are amongst the best in the world. So when DJ Emir introduces a new mixtape the world listens.
Mixtapes are easy to find, but hot mixtapes are hard to come by. Hot mixtapes are our specialty at www.djemir.com
Now get your hands on the first edition of the hottest new reggae mixtape series, The 18k Dancehall mixtape vol1 by DJ Emir.
For years DJ Emir santana has been a driving force in Denver's Reggae Music Scene. Originally moving to Denver from New York City, Emir already had a massive collection of reggae music and loved to mix Reggae music into his sets. Adding to his success as a Top 40, Hip Hip Hop and House Music DJ, DJ Emir also became known as One of Denver's premier Reggae DJs. Emir deejayed the Reggae room for Chocolate City at Club America ahuge nightclub at the Tivoli owned by Church Nightcub owner Regas Christou, as well as for an all Reggae night at Soapie Smiths (later bought and named Denver's Martini Ranch) and sevaral other famous Reggae spots in Denver, DJ Emir immersed himself in reggae music and became known as Denver's top Reggae DJ.

Emir has performed at various nightclubs around the world mixing a blend of mashups, Top 40, Hip Hop, Reggae, Electro House and personal remixes. and has made several major nightclub appearances including Grenada's premier Reggae and Ultra Dance Club Karma on the island of Grenada W.I. , Club Xtreme PR, Nightclubs in China & Japan and various other Reggae, Reggaeton and dance music clubs in the Caribbean
Mixtapes have always been a passion that Emir puts his heart into, so naturally, Emir has put together many Reggae Mixtapes and Hip Hop/Reggae mixtapes in the past. Cassette mixtapes like his 5 Alarm reggae mixtape and the Voodoo Magic Reggae mixtape Series. Lately several past Mixtape fans have asked for these cassette mixtapes stating "I played your mixtape constantly for years until the cassette finally wore out and broke" because of requests from past mixtape fans DJ Emir plans on re-mastering and re-releasing a few of these hot classic reggae cassette mixtapes in CD format In addition to re-releasing some of the old reggae mixtapes, hip hop mixtapes,and techno mixtapes Emir also has begun producing a New Reggae Mixtape CD series entitled the 18K Dancehall mixtape series which was commisioned by 18 Karat Lounge on the island of St Thomas.
This Dancehal reggae Mixtape series Plays weekly at 18K Lounge and after a few months of exclusive play at 18K lounge For the first time ever the first volume in this hot Reggae mixtape series has been made available to the general public.
DJ Emir 18K Dancehall Reggae Mixtape Sample by djemir
80 minutes of the hottest Dancehall Reggae Music Mixed by One of the worlds top Reggae, Hip Hop and Mashup DJs. An ultra hot blend of the best reggae songs, hardest dancehall remixes and the hottest dancehall riddims in the world. Don't miss ut on this hot mixtape add it to your mixtape collection today.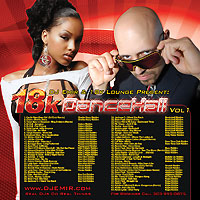 Reggae Mixtape CD: 18K Dancehall Mixtape CD Volume 1
Reggae music at it's best! 80 Minute Dancehall Reggae Mixtape CD just $9.99 for 64 song reggae music CD