Mixtape Six Pack V2: volumes 9,10,11,12 plus the Michael Jackson Mixtape & 18K Dancehall Reggae Mixtape V1 (6 Mixtapes for The Price of 5)
Hot Mixtape Deal: Pick up The Michael Jackson Mixtape FREE as part of this 6 Pack of mixtapes. You get 6 mixtapes for the price of 5!
Buy 5 mixtapes Get 1 Free! Vol9-12 plus Michael Jackson Mixtape & Dancehall Reggae Mixtape just $49.99 for all six mixtapes
Michael Jackson Mixtape Sample Videos
Sample Videos from the DJ Emir Michael Jackson Mixtape
Michael Jackson Mixtape Sample Video 2
Sample Video 2 from later half of DJ Emir's hot Michael Jackson Mixtape . Features DJ Emir exclusive blend mixtape remixes of Michael Jackson's Black or White mixed with Pitbull's Kraze Lyrics and Method Man's PlO style over Michael Jackson's Bad instrumental transitioning into smooth Criminal. Hot little 5 minute clip to give you a taste of DJ Emir's Michael Jackson Badder than Bad Mixtape tribute.
Michael Jackson Badder Than Bad Mixtape Tracks 46-49

PS: the Rest of the mixtape is Hot so get your copy today!
Michael Jackson Mixtape Review by J Jones
"It's a sad day when we lose one of the most beloved singers and entertainers of all time.Michael Jackson The King of Pop was an inspiration to millions around the world. His absence will be felt most dearly.Even sadder, he was scheduled to release several new albums and was also ready to tour again. Many new fans along with his faithful original fans had a chance to see his awesome stage performances live in concert.With the tragic passing of Michael Jackson we all feel the loss deeply. We will miss his charity, gentle natureand of course the music, music videos and great performances he would have kept creating.
We've all been listening to Michael Jackson albums all our lives. I still have my original12 inch records of Off the Wall , Thriller and Bad. I also still have the original Cassette tapes and of course all of Michael Jackson's albums on CD. Since his passing I have been listening to all his albums, plus dozens of mixtape tributes from countless DJs. A few of the Michael Jackson tribute mixtapes stand out as great tributes. Particularly the Cooking Soul Mixtape and The DJ Emir Badder Than Bad Mixtape Tribute.
We can think of no one better suited to create a Michael Jackson Mixtape Tribute masterpiece than the mixtape King himself DJ Emir.On "Badder Than Bad" The King of Pop meets the King of the Mixtapes to create a tribute like no other out there.
DJ Emir was known to throw Michael Jackson songs in the clubs almost every time he spun.Emir constantly would remix Michaels music live in the clubs across the country while on tour.So It is quite fitting that DJ Emir's tribute mixtape to The King of Pop should be the greatest to gracethe world and the internet. It shows the world what two great forces in the entertainment world can do when they collide in spectacular fashion.
DJ Emir's "Badder Than Bad - The Michael Jackson Tribute Mixtape" is by far the best and most befitting mixtape tribute there is.No other mixtape even comes close to the effort and talent put forth on the Badder Than Bad Mixtape Tribute.
Anyone and everyone that ever loved Michael Jackson's music will thoroughly enjoy this finely crafted mixtape masterpiece " - James Jones Las Vegas Reviews
Michael Jackson Mixtape Review by JW
"DJ Emir's 'Badder Than Bad' the Incredible Michael Jackson Mixtape was a labor of love that has recieved tons of praise from the mixtape community, the nightclub community and the press in general. Unlike the many DJs that flocked to thier basements to try and 'Be The First' and catch the first wave as soon as they heard the news, DJ Emir actually took the time to 'Remember the Time' focus deeply and reflect on Michael Jackson's music. DJ Emir made sure he properly represented Michael Jackson's legendary music as well as songs and artists he inspired. Instead of trying to be the first, Emir made sure he was simply the best.
On Badder Than Bad DJ Emir took the time to program his playlist for optimal listening enjoyment and a strong flowing movement from start to finish. This is what Mixtapes are supposed to sound like and what all mixtape DJs should strive to achieve. Emir is one of the only DJs I can trust to put together a Great Michael Jackson Tribute Mixtape and that is exactly what Emir has done on his Badder Than Bad Mixtape CD.
Emir embodies the spirit of performance and level of dedication that Michael Jackson had when creating music, music videos, choreography and elaborate stage shows. This has enabled Emir's "Badder Than Bad" Mixtape to become the One mixtape that can be labeled as a "Classic Mixtape Tribute"
Michael Jackson deserves to be represented as the best of the best. In order for that to happen he had to be mixed by the best of the best. Only a select few DJs in the world have the skills as both DJs and mixtape producers to properly represent Michael Jackson on a Mixtape.
Reading other reviews of this mixtape , it being aMichael Jackson tribute and knowing Emir's reputation for always delivering quality mixtapes, I already knew this was going to be One of the best mixtapes to ever grace my stereo. Even though I expected the mixtape to be a great mixtape I was flabbergasted to hear the Remixes Emir created on this mixtape. And I was floored when I heard the Title track "Badder Than Bad" it turned out to be a super hot remix of Michael Jackson's Hit song Bad over a new contemporary Sean Paul Beat with Emir cutting up the acappella like there was no tomorrow. And it didn't stop there, Emir blazed through the entire 80 minutes with original songs, personal remixes and great mixes of Michael Jacksons best music. This was the tribute that needed to be made. Everything else just doesn't do Michael justice. Badder Than Bad is the greatest tribute mixtape for Michael Jackson the greatest of all time!" - Johnathan Weiss (Music Masters Press Consortium)
More Reviews for Michael Jackson Mixtape:
"Michael Jackson collectors everywhere need this mixtape to complete thier Michael Jackson collection, that's how hot it is!" - Maria Hernandez
"When I saw this In the mail at first I thought 'Oh no not yet another Michael jackson mixtape, can the man just rest in peace?' But then I saw who it was from and just listening to the first track I already knew it was going to be ultra hot. Damn Emir put down a hard set that definitely puts Michael Jackson to Rest and the rest of these wanna be mixtapes to rest properly! A great tribute by a great DJ for the greatest entertainer of all time, The Man the Legend, Michael Jackson!" - Vanguard Reviews
Michael Jackson Mixtape Wallpaper

Download This Michael Jackson Mixtape Wallpaper in The following Sizes
(Right click and "save as" to save to your computer)
Michael Jackson Mixtape Wallpaper 1200x720
Michael Jackson Mixtape Wallpaper 1000x600
Michael Jackson Mixtape Wallpaper 900x500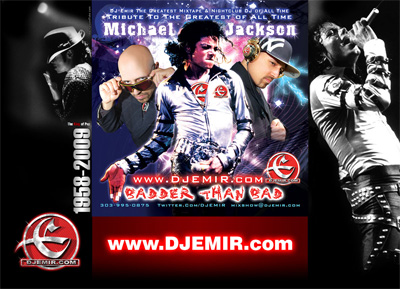 Download This Michael Jackson Mixtape Wallpaper in The following Sizes
(Right click and "save as" to save to your computer)
Michael Jackson Mixtape Wallpaper 2 1400x1000
Michael Jackson Mixtape Wallpaper 2 1200x800