More DJ Reviews, Mixtape Reviews and Customer Testimonials:
"I love DJ Emir's mixes and his mixtapes are the best I've ever heard. I'm a fan for life."- Jimmy Watts, Las Vegas NV.
"The Iron Man Mixtape is incredible, I listen to it all the time! Best mixes ever thanks."- Mark Ronstein, Denver CO.
"What's up E? Just so you know, we passed out a ton of your mixtapes and the Iron Man Mixtape is now officially the hardest mixtape in Los Angeles!" - J of J's VIP List, Los Angeles CA.
"My kid hijacked my Transformers mixtape and makes us listen to it all the time in the car, don't worry we love it too, but now I need my own copy"- Robert Denver, CO.
"Your mixtapes are the best, keep up the great work." -Vanessa V.
The Great Hip Hop Music Blog Spot
"Just wanted to let you know that as far as I'm concerned DJ Emir is the best DJ in Denver. I always have a great time when he DJs!" - Carlos Barista, Denver CO.
"DJ Emir has some serious technical abilities" - DJ Bert, Denver CO. (Said to DJ Dangerous Dan at Loft Nightclub DJ Competition Denver)
"Everytime I get ready to make a mixtape I think, damn now how can I try and make a mixtape as hot as DJ Emir's Transformers mixtape?" -DJ Sinafold, Denver CO.
"Your Iron Man Mixtape was hot, I've been listening to it all week. It inspires me to want to DJ again." - DJ Javio, Denver CO.
DJ Emir Wallpaper posters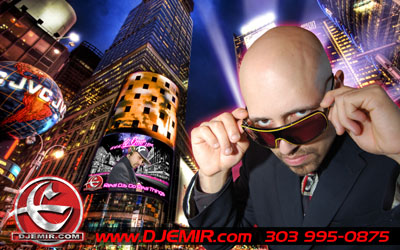 Right click on links below to save these Wallpapers to Your Desktop then use them for myspace and twitter layouts posters or whetever you like
DJ Emir Times Square New York Wallpaper 2560 x 1600
DJ Emir Times Square New York Wallpaper 1800 x 1125
DJ Emir Times Square New York Wallpaper 1400 x 875
DJ Emir Times Square New York Wallpaper 1200 x 750
DJ Emir Times Square New York Wallpaper 1000 x 625