Emir M. Santana: Senior Design Developer & Interactive Marketing / PR Promotions Manager
7600 E. Caley Ave #1025 Englewood CO. 80111
Cell: 303 995-0875
mixshow@djemir.com
Objectives:
Work as a prominent PR firm specialist and celebrity liaison to take full advantage of the vast skills and resources Emir has as a designer, marketing professional and internet / live networking professional, while working for both low and high profile celebrities and VIP clients across the world.
Design, SEO, PR and Interactive Marketing Summary:
Driven, creative and aggressive interactive marketing strategist and designer with the vision to create and implement strong marketing campaigns that drive prospective customers to trust and embrace the insightful innovations produced for the companies he works for. With a winning combination of style, design and emotional connection, Emir stirs up the emotional triggers, wants and hidden desires within each human being to drive sales and revenue to extreme heights. It's Emir's deep understanding of the workings that motivate and move people, plus his ability to convey the message in the strongest manner possible that makes him such a great asset.
Outstanding Adobe PhotoShop & design skills that have produced marketing designs of uncompromised quality. These designs have consitently maintained a high level of sophistication and visual appeal while delivering a powerful message to help maintain top of mind status and a strong raport with every potential client.
Extreme SEO expert and marketing specialist with the technical savvy and knowledge necessary to implement a strong white hat Search Engine Optimization campaign. Emir's strong SEO Skills are capable of uplifting any company's website prominence to help drive tons of highly targeted traffic to specific pages within a company's website in a strong marketing push that increases revenue and profits.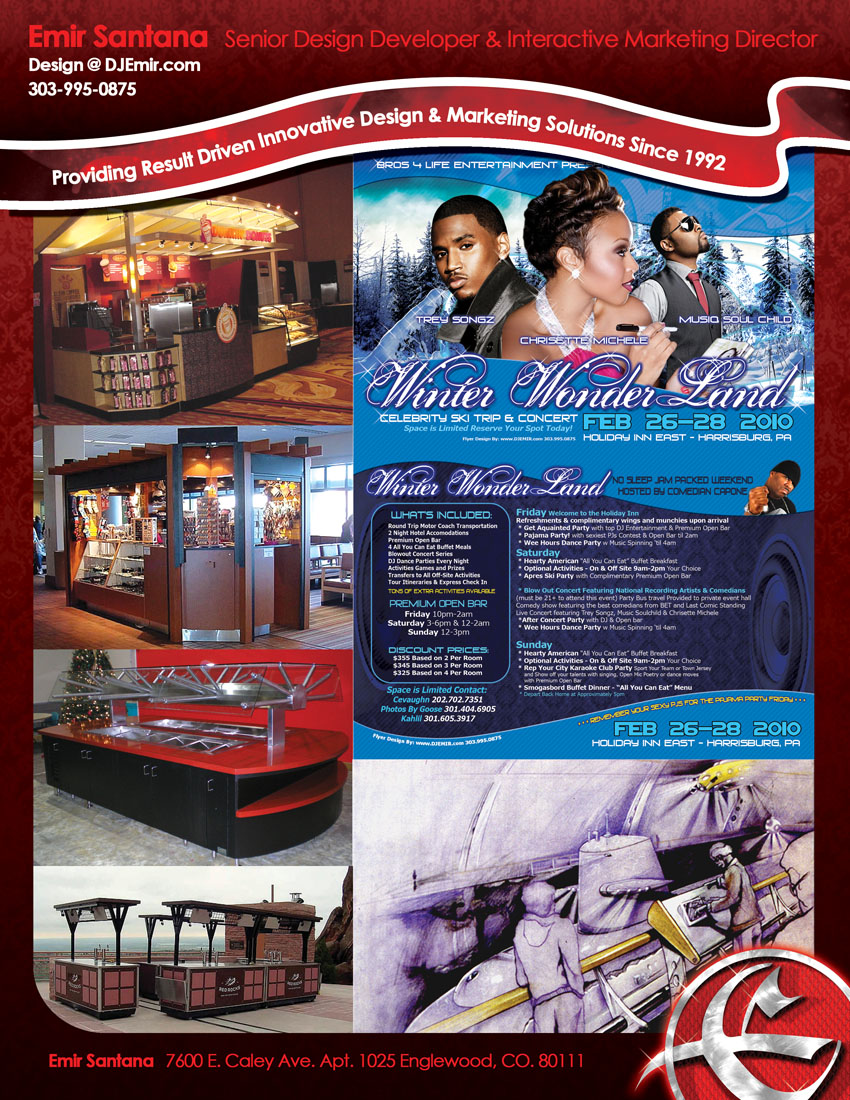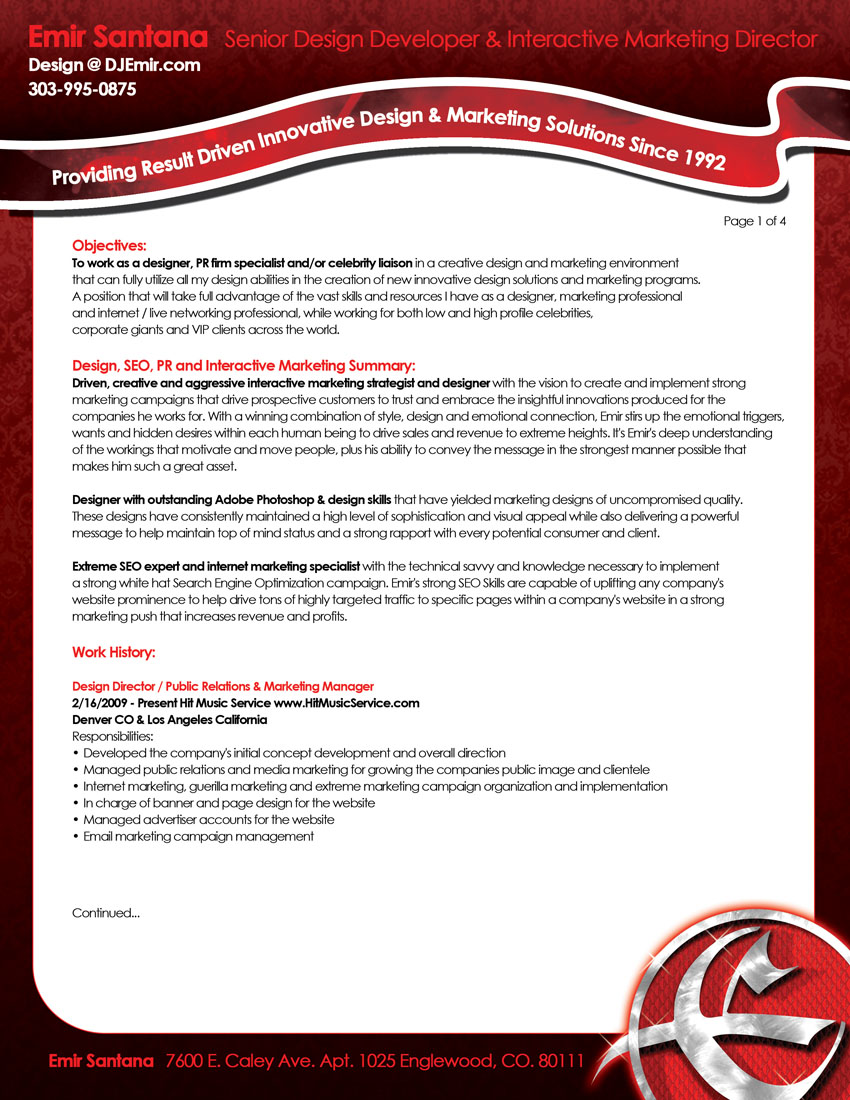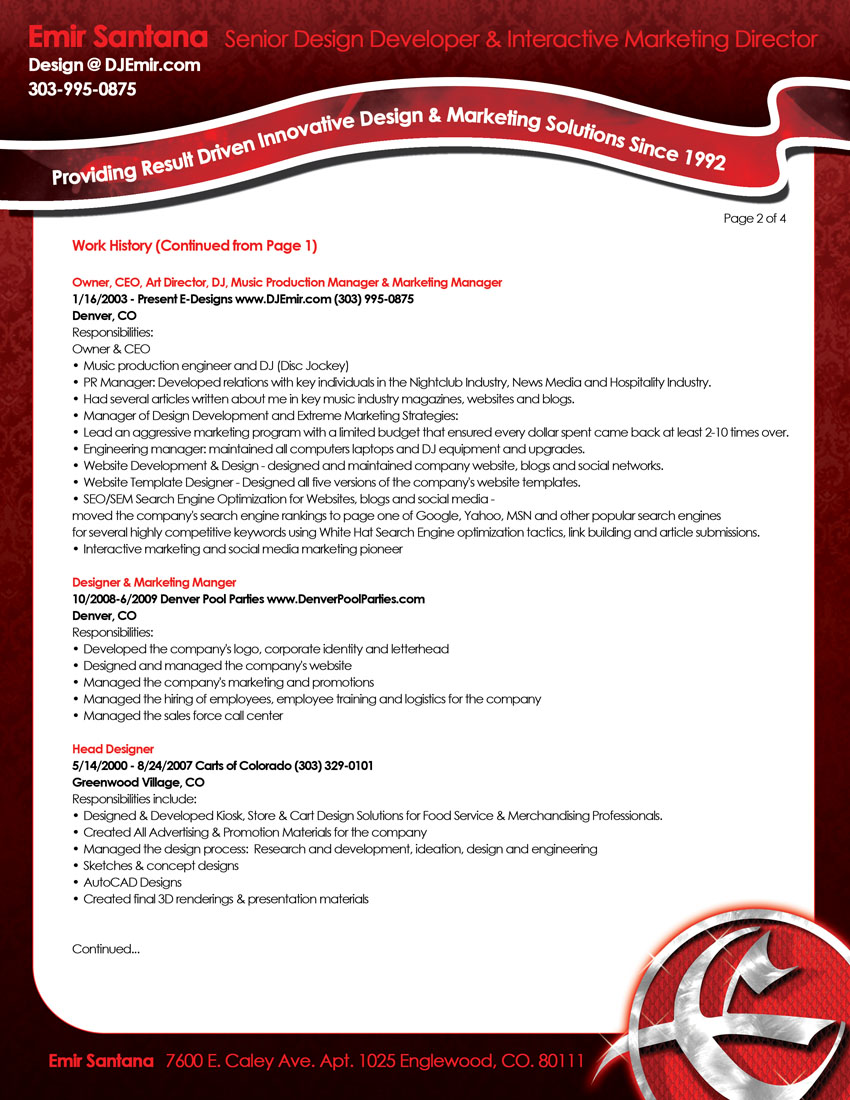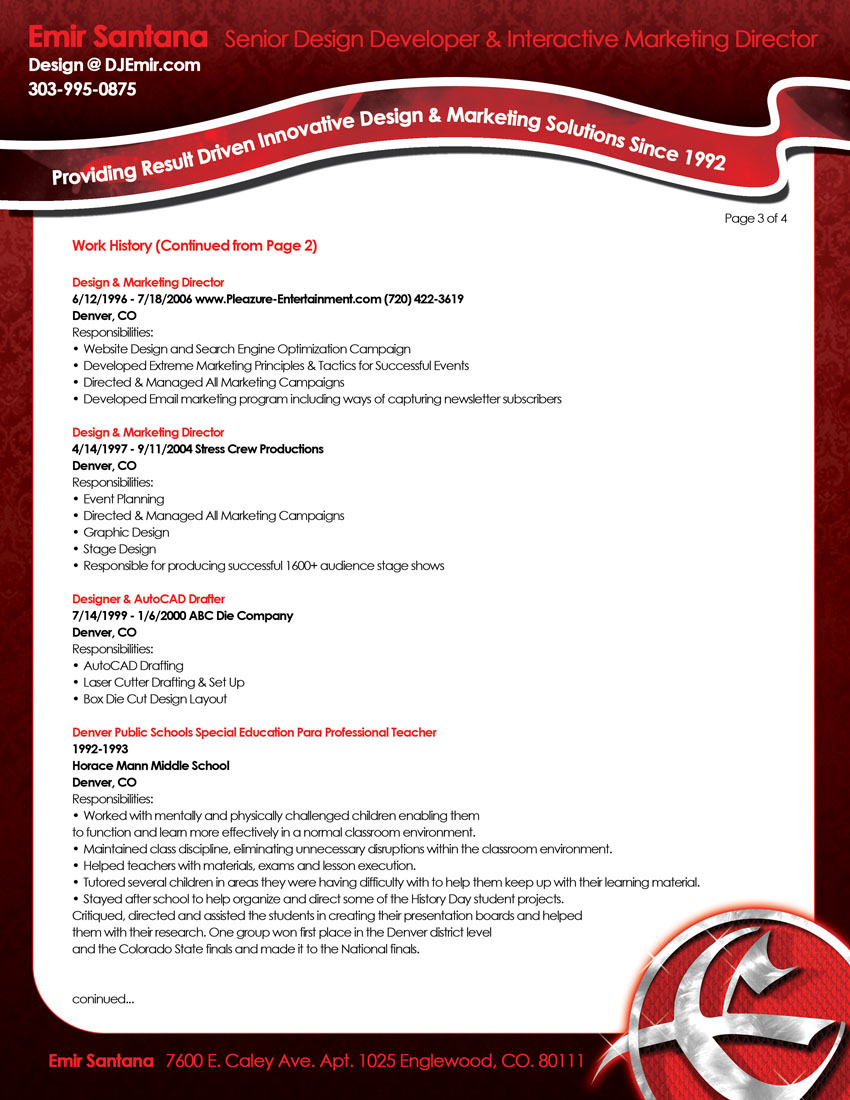 Work History:
Design & Marketing Director
1/6/2009 - 5/24/2009 Hit Music Service
www.hitmusicservice.com CEO Dan Hyatt (303) 931-3010
Denver, CO / Hollywood, California

Responsibilities as Design & Marketing Director:
Designed & Developed the advertisments, banners, graphics and overal design direction for the website and all marketing materials.
Created and implemented a strong advertising and internet marketing campaign responsible for generating over %90 of the company's new revenue supply. Oversaw the develpment of the website design and functionality.
Head Designer
5/14/2000 - 8/24/2007 Carts of Colorado
www.cartsofcolorado.com Operation Manager Jim Covey (303) 329-0101
Greenwood Village, CO

Responsibilities as Head Designer:
Designed & Developed Kiosk, Store & Cart Design Solutions for Food Service & Merchandising Professionals.
Created All Advertising & Promotion Materials.
Managed The Design Process: Sketches & AutoCAD Designs to Final
3D Renderings & Presentation Materials.

Sample of Food Cart and Kiosk Designs created for Carts of Colorado: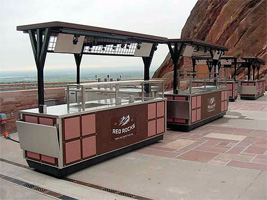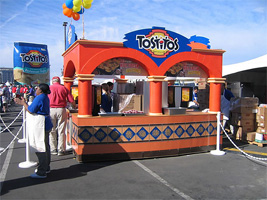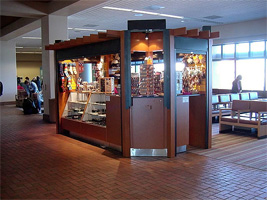 Art Director & Marketing Manager
1/16/2003 - Present E-Designs
www.DJEmir.com Owner Emir Santana (303) 995-0875
Denver, CO

Responsibilities as Art Director & Marketing Manager:
Managed Design Development
Marketing Design
Engineering
Website Development & Design
Website Template Design
SEO/SEM Search Engine Optimization for Websites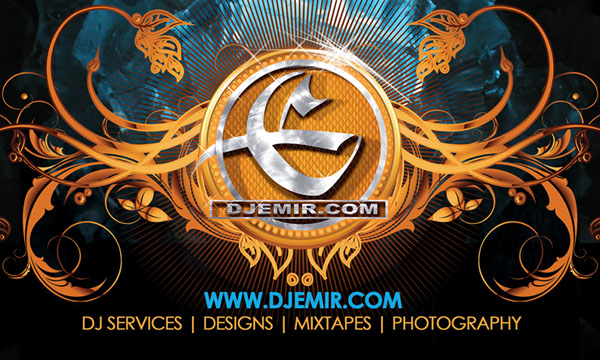 Design & Marketing Director
6/12/1996 - 7/18/2006 PLEAZURE Entertainment
www.Pleazure-Entertainment.com CEO Roger Keeler (720) 422-3619
Denver, CO

Responsibilities as Design & Marketing Director:
Website Design and Search Engine Optimization Campaign
Developed Extreme Marketing Principles & Tactics For Succesful Events
Directed & Managed All Marketing Campaigns

Sample of Advertising and Marketing Flyer Design created for PLEAZURE-ENTERTAINMENT: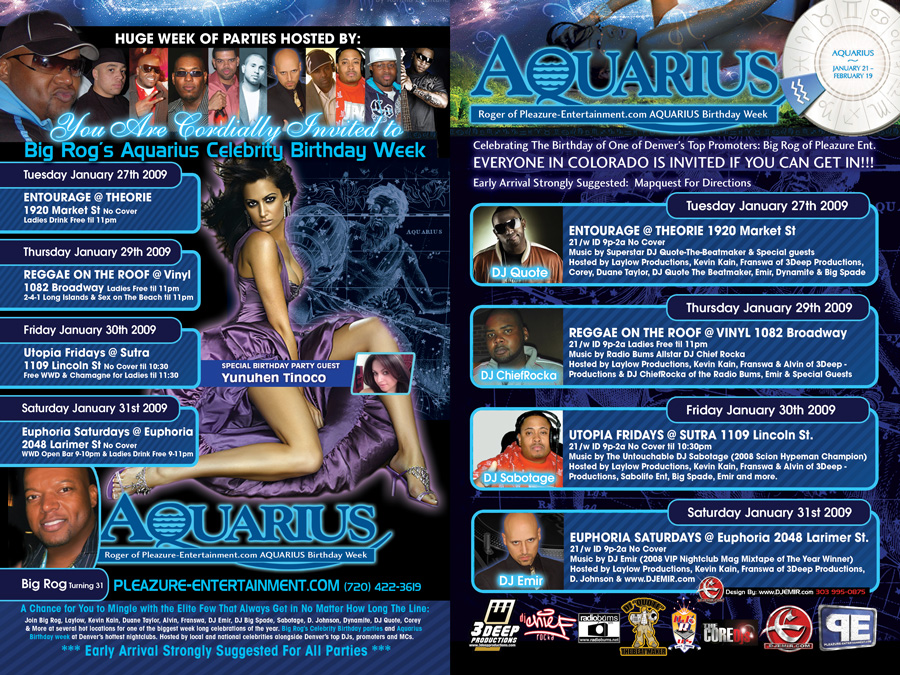 Design & Marketing Director
4/14/1997 - 9/11/2004 Stress Crew Productions CEO Joloni Williams (213) 864-9601
Denver, CO

Responsibilities as Design & Marketing Director:
Event Planning
Directed & Managed All Marketing Campaigns
Graphic Design
Stage Design
Responsible for producing successful 1600+ audience stage shows
Responsible for organizing and producing One 10,000+ Audience Stage Show
Professional AutoCAD Drafter & Designer
7/14/1999 - 1/6/2000 ABC Die Company
Denver, CO

Responsibilities as Professional Drafter & Designer:
AutoCad Drafting
Laser Cutter Drafting & Set Up
Box Die Cut Design Layout

Education:

Cooper Union
9/1992 - 9/1994 Major: Art & Design
Minor: Science
Measure/GPA: 3.0

Art Institute of Colorado
Bachelor of Arts
6/1996 - 6/2000 Major: Industrial Design & Engineering
Minor: Graphic Design
Measure/GPA: 3.5

Awards for Design Excellence
Awards for Graduation Portfolio


Design & Marketing Skills Inventory:
3 D Design
3 D Solid Modelling
Adobe GoLive Web Development Software
Adobe Illustrator
Adobe Photoshop
AutoCad 2008
Design & Development
Industrial Design
Project Management
SolidWorks
Machine Shop Experience
Shop Drawings
Automotive Clay Sculpting
Special Effects Latex Mask Clay Sculpting, Mask Making and Moulding
Signage Design
Nightclub Design and DJ Booth Design
Sound Mixing and Editing
Graphic Design
Extreme Guerilla Marketing
Nightclub and Event Management
Event Promotions
SEO & SEM Search Engine Optimization and Marketing Expert
Emir M Santana Design & Marketing Specialist 303 995-0875